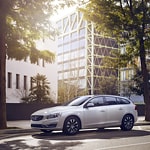 The newest Volvo V60 Inscription is a showstopper in the midsize sports wagon industry today. It is unlike anything found from leading American car designers, simply because it showcases some of the finest Swedish car designs.
The Scandinavian designs begin with the wagon's eye-catching leather interior, featuring fine stitching on the seats, doors, and steering wheel. This natural, soft-touch leather makes sinking into the seats and sliding back into a reclining position a pleasure.
The Swedish feel also extends to the car's roomy cabin and generous back seat. You will find ample legroom in both the front and back and also enjoy having seats that you can easily push back and move forward with the touch of an electronically-powered button. The newest Inscription can be the perfect luxury midsize wagon for your family. Find out for sure by test driving one today.