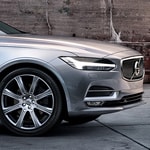 Imagine living in a world where you won't have to worry so much about your safety while driving. With the help of the Volvo V90 safety features, you will have the necessary peace of mind to drive around Hagerstown with ease.
Volvo V90 drivers are happy to drive something that keeps them safe and has features like automatic stability control as a standard feature. They know that small details like this are what help Volvo stand apart from other brands. They are happy to drive such a brand, and they find that doing so enables them to enjoy their ride more fully.
Many people don't realize the full extent of the power behind the Volvo V90, but it is truly extraordinary. Considering this, make sure you look at how it can be used to keep you and your loved ones safe on the road.